Ristorante

Bed & Breakfast - Bar
Via Bertelli n°1
25052 Annunciata di Piancogno (BS)
Tel. Fax ++ 39 0364 45006

---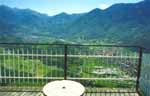 HISTORICAL HINTS:
"MIRAVALLE" restaurant was founded after World War II on the remains of a family house dating back to the second half of 19th century and has been run by Letari family for 3 generations.



SETTING:
It is situated in a small village called "Annunciata" belonging to the council of Piancogno (Valle Camonica - BS) ; located at 700 metres above sea level, it is plunged into a green and quiet panoramic area, spreading from Adamello glacier to Lake Iseo.
In the close surroundings there is a 13th century church and a 15th century franciscan monastery-sanctuary where "Beato Innocenzo da Berzo" lived. There are also ancient vineyards and newly discovered rocky engravings.


CUISINE
Valle Camonica typical cuisine, with large use of wild aromatic herbs, fresh pasta and a wide selection of meet, besides local delicatessen and cheeses.
Suits very well for banquets, ceremonies, meetings and coach groups.
Maximum capacity 200 seats. Reservations is appreciated.



CREDIT CARDS:
American Express
Diner's Club
Eurocard
Mastercard
Visa
Carta Sì
Pago Bancomat
are welcome.


WI-FI FREE

THANKS, GOODBYE
We are here
---
Copyright © 2005 Ristorante Miravalle